We are a Green Gold Enviroschool! We take this accolade very seriously and continue to look into ways to demonstrate we care for our people, programmes, practices and places.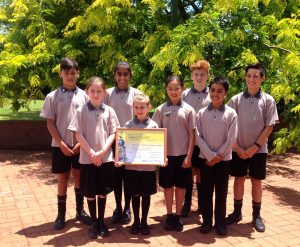 Here we are with the certificate that we were presented at the Enviroschools awards.
It is Auckland Council's vision to be pest free by the year 2050. A team of students from the Junior College shared their Pestival learning with us.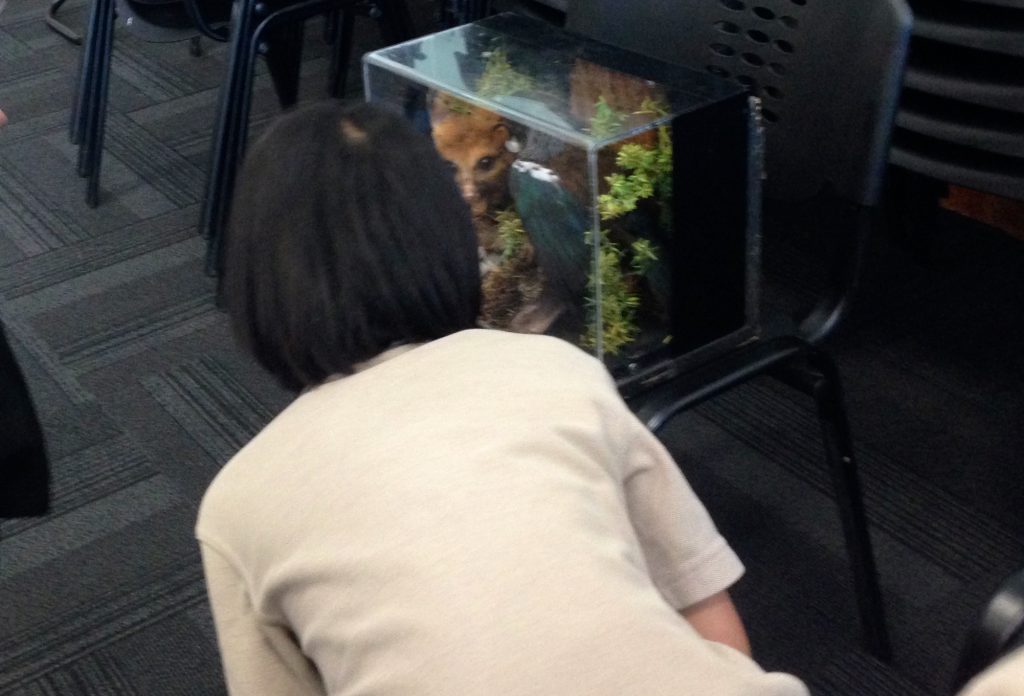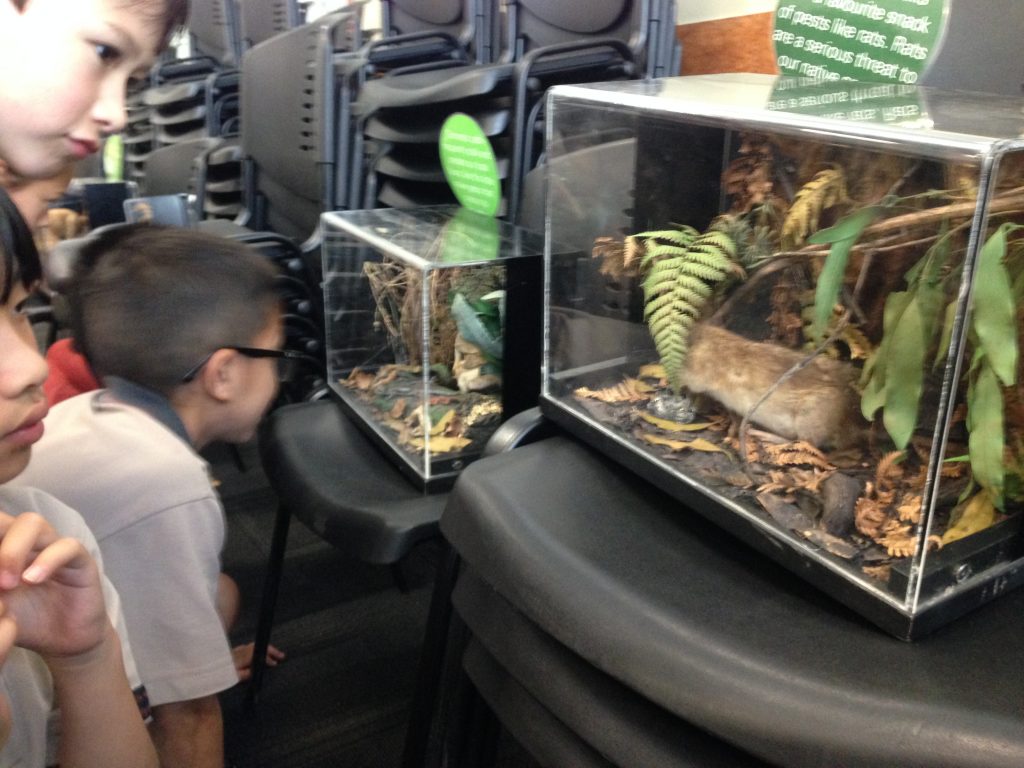 As part of our Flatbush Cluster initiative we cleaned up the Tane Forest with the MHJC student team.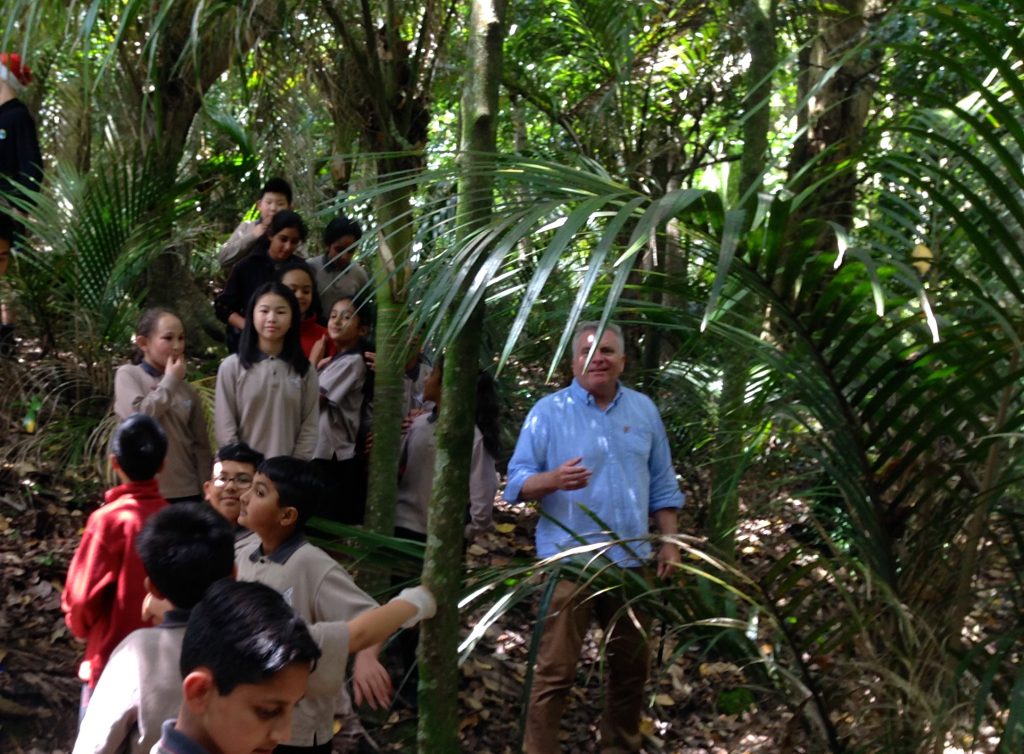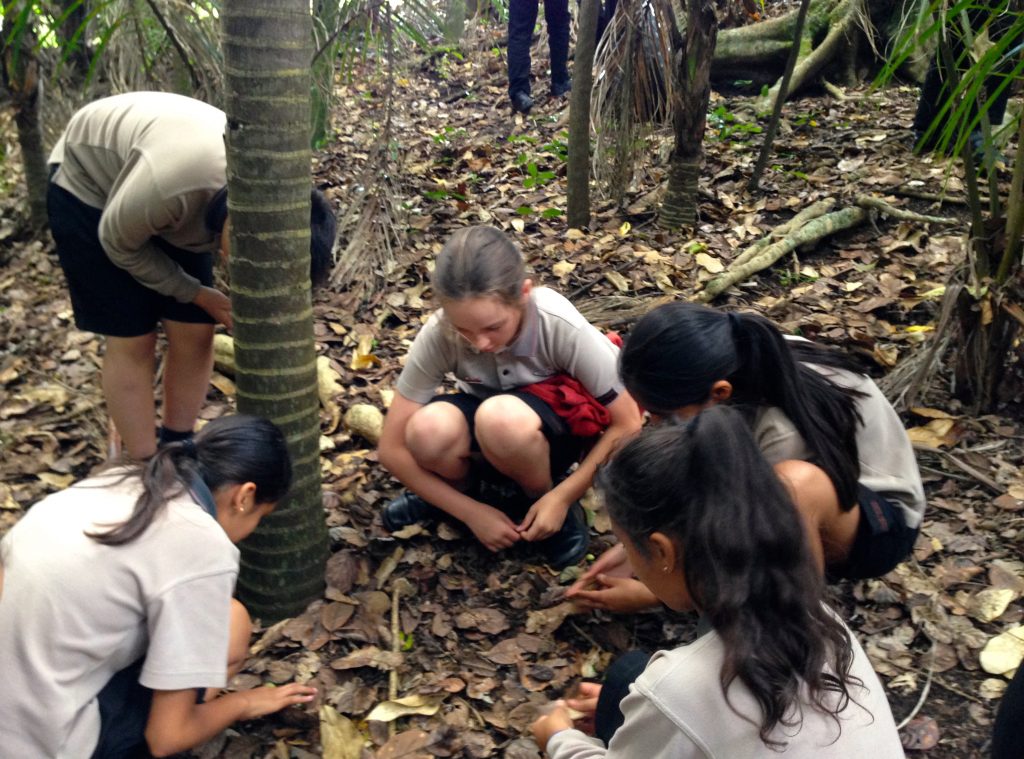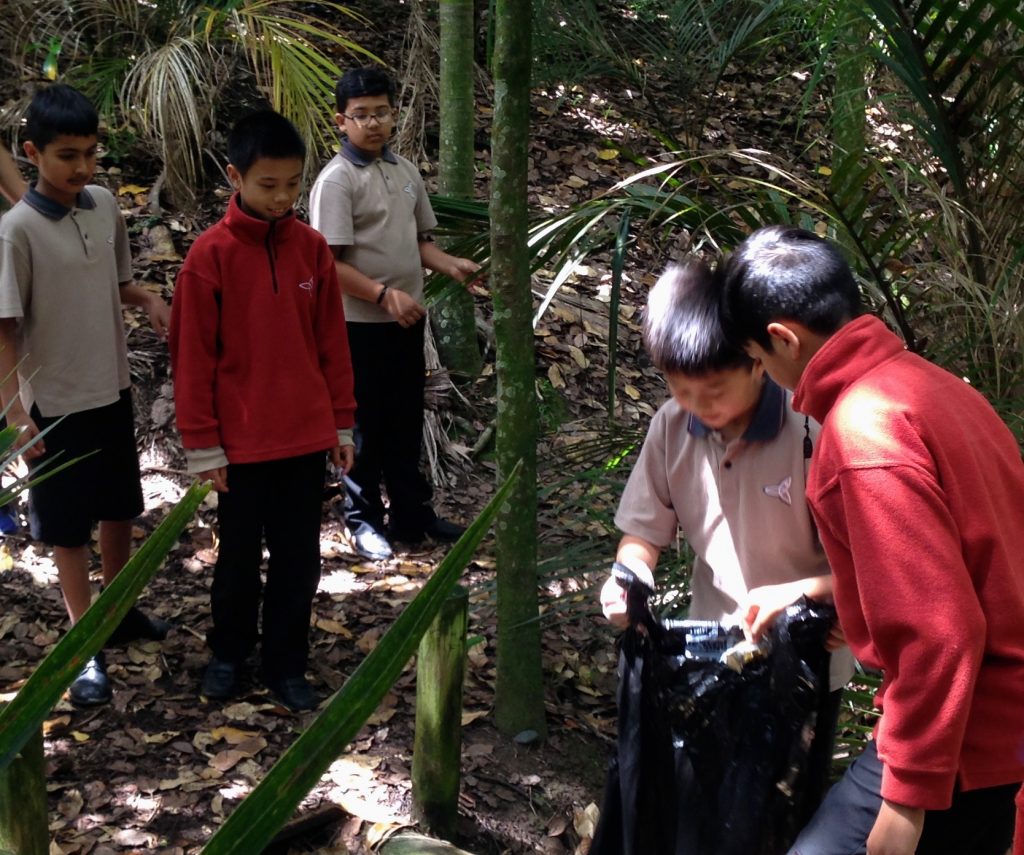 At Mission Heights Primary we pride ourselves on our environment! Being a digital school means we're big on conserving paper. Our school has many environmentally friendly features that include recycling procedures and rain water tanks.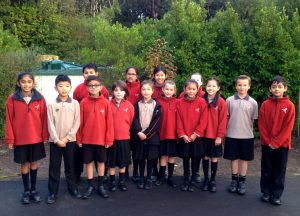 Our lights and most of our taps turn off automatically.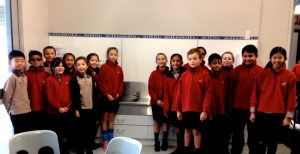 We switched from paper towels to hand driers as well. We have a well established orchard now and our students enjoy feeding and tending to it.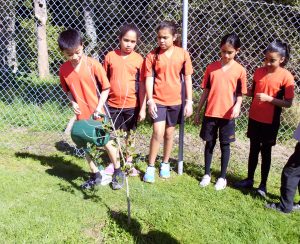 We do our bit for the dwindling Monarch population by having a healthy and well looked after Butterfly Garden.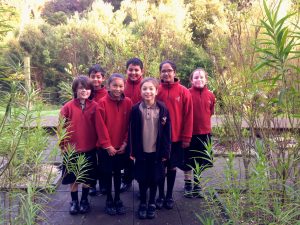 Our portable worm farm takes care of our fruit scraps.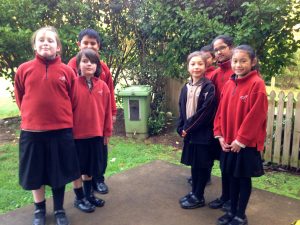 Solar panels and our special window glass ensure optimum energy efficiency.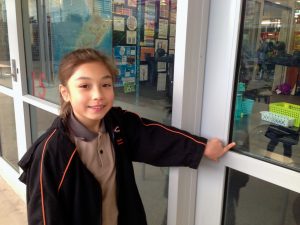 We are committed to caring for the environment beyond our school gate and went to Eastern Beach to do a beach clean up.
Here we are sifting through sand looking for the enemy – plastic!
We collected so many objects that could hurt our marine life.
It was the last of those splendid summer days.
Here we are planting and feeding our fruit trees. It is so exciting that we are a part of the Howick Fruit Trees at Schools Project. Students get to observe the progression from seed, to tree, to flower, to fruit and back to seed again.
Three of us went on the Great Enviroschools Bus Tour. We visited Te Ngira Marae, Pukekiwiriki Pa, the Papakura Art Gallery and Drury School. We had the most amazing and varied experience.
This is us with our koha for Drury School
Two of our team members attended the launch of the Howick Fruit Trees at School Project which was sponsored by Kings Plant Barn. They gifted us 18 fruit trees and the stakes and compost too! Thank you Auckland Council for inviting us to join in this wonderful initiative which is going to be a most valuable learning experience.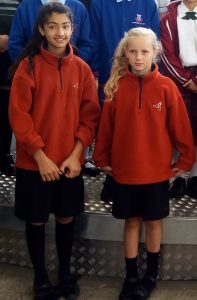 We did restorative planting with Auckland Council. Our team recognised that planting prevents erosion, creates a sustainable habitat for our indigenous birds and insects. And of course most importantly that trees provide us with clean air.
Look at this beehive of activity!
Right, we dig a hole twice the size of the root ball, drop the fertilizer pellet in the hole, gently ease in the plant, and pat the soil back in and around the plant. There – sorted!
We are signed up with paper4trees and earned 15 indigenous trees which arrived in Term 2. Mrs Devanath's Garden Club planted them. Here are some of her team on the day of the planting.
We have adopted a park this year and we're quite excited about it. Preliminary meetings were held and we have already been out to the Mission Heights Reserve and tidied up. We look forward to working with Wai Care as well to care for our streams. Here is a photo of us on a litter ramble.
In Term 3 we will be doing some Restorative Planting alongside Auckland Council. We look forward to being involved with the environment beyond our school gate.
Here we are helping Mr Revell with keeping our own grounds tidy by brushing the bark into the hedge area.
We hosted the Eastern Enviroschools cluster meeting in Term 4 2015. We welcomed our manuhiri to our school with a powhiri. The workshop demonstrated the many ways we can use our adjoining forest as an exciting learning experience for our students
We joined the nation in the Earthquake Drill. Every learning zone was made aware of how best to react in an earthquake through a variety of resources and media. Here is a picture of us demonstrating Drop Cover Hold.
Because we are a rubbish free school, we encourage our students to bring in wrapper free morning teas and lunches. This is what we have in mind when we say wrapper free. It means no cling film or foil or chip and muesli wrappers that simply end up in landfill. Take a look at an ideal lunch box. It is wrapper free and illustrates healthy choices too!
Here's How We Care for Our Environment
Learning Zones adopt Enviro areas
Each learning zone ensures that their shared spaces are neat and tidy at the end of the day.
The Enviro Team
The Team are issued with Enviro Councillor and Monitor Badges and are responsible for decision making and collecting used paper for recycling. They are responsible for all three primary blocks, the administrative block, and the library.
Enviro Trophy
The Enviro Council rewards the Enviro effort across the school. They look for tidy bench tops and cubby holes, zero litter on floors, bag cupboards that are kept shut, tidy maths and reading stations and publishing that is neatly displayed. The individual Learning Zone or Studio that demonstrates the greatest effort is presented with the Enviro trophy which they get to keep for a fortnight.
Mrs Vohra is always happy with the number of students that gather around the Butterfly Garden and want to show her the Monarch at various stages of it's metamorphosis. From a pin head size egg to a caterpillar, chrysalis and a butterfly. Our butterfly garden is a favourite spot for students and families before and after school. It was the legacy of the School Council 2012. They left the ongoing upkeep of it in the good hands of the Enviro Council.
Here's a picture of our thriving butterfly garden! It just gets better:)
The MHP Global Sign Post is a celebration of our diverse cultures. It is the legacy of the School Council of 2013.
And here's the legacy of the school council of 2014. It already looks great and we are very excited about it. We have these neat little bridges with a board walk that just so perfectly frames our Butterfly Garden. It's a favourite spot for students during break times. But wait – there's more… the hand prints of our foundation students and staff have been immortalised in our logo.
Check out our school values and house heroes signpost.
The wonder of fruit trees right here on our doorstep.
Just chilling on our Friendship Benches – yet another legacy project of our outgoing Student Council.
Paper4trees
We are signed up with Paper4trees to earn trees for our recycling effort. They even provide us with our grey bins made of recycled light-proof milk bottles. We earned 14 indigenous trees for the year 2016. These were put into the ground by Mrs Devanath's Garden Club. We chose trees that encourage indigenous birds and insects to make our school their home. The effort we put into our gardens always gives us a good feeling.
Mrs Devanath is taking her students to the Botanical Gardens for the Eye On Nature workshop. It is a great opportunity for our students to learn life skills.
We continue to have a busy time with worthwhile, authentic projects!