Mission Heights Primary is a Gold Travel Wise school and our focus is sustainable and safe transport for our students and families. We will be looking for ways to further reduce our carbon footprint by encouraging students to walk to school. Our big focus this year will be reminding our community that wearing seat belts is critical to safety and getting the message out there that texting while driving is a big no-no.
Meet some of the Travel Wise Team 2020! Here we are with our Principal in the very first week of school.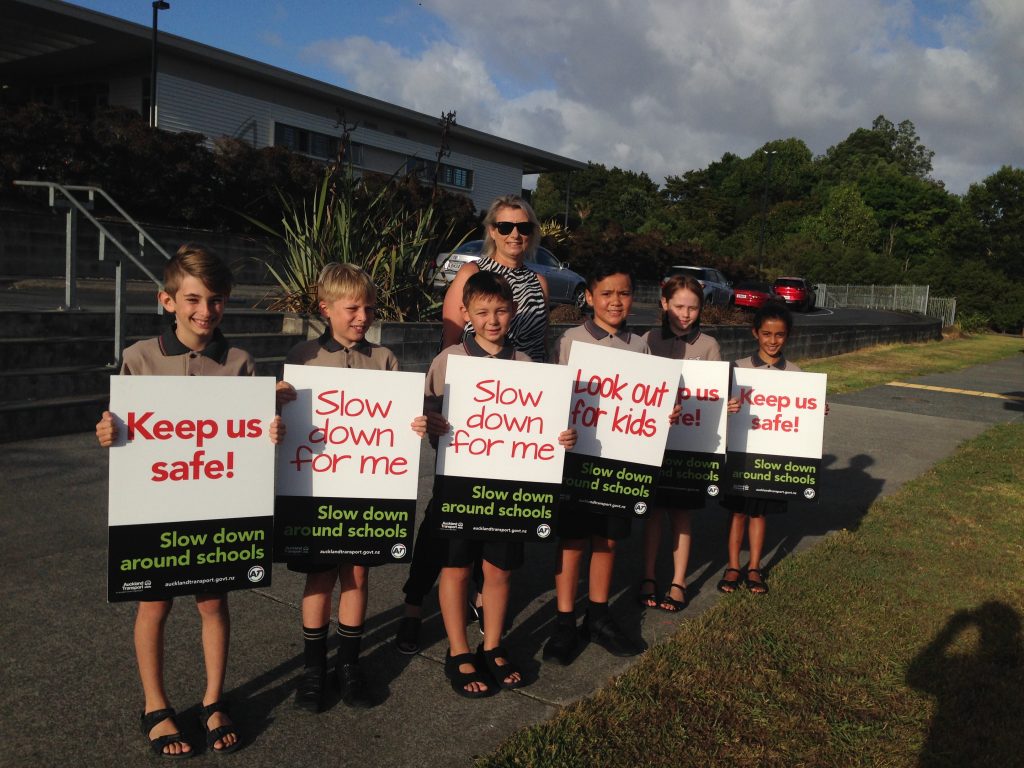 Zara the Zebra joined us one morning to highlight our zebra crossing.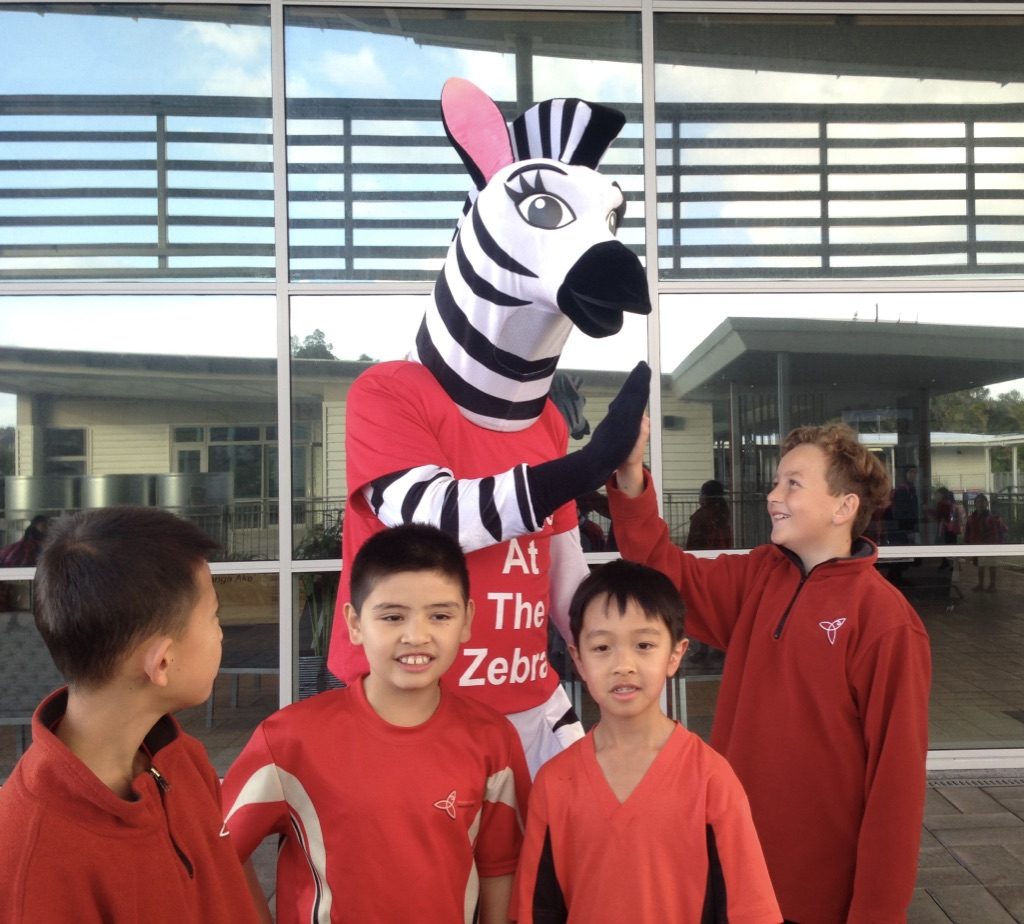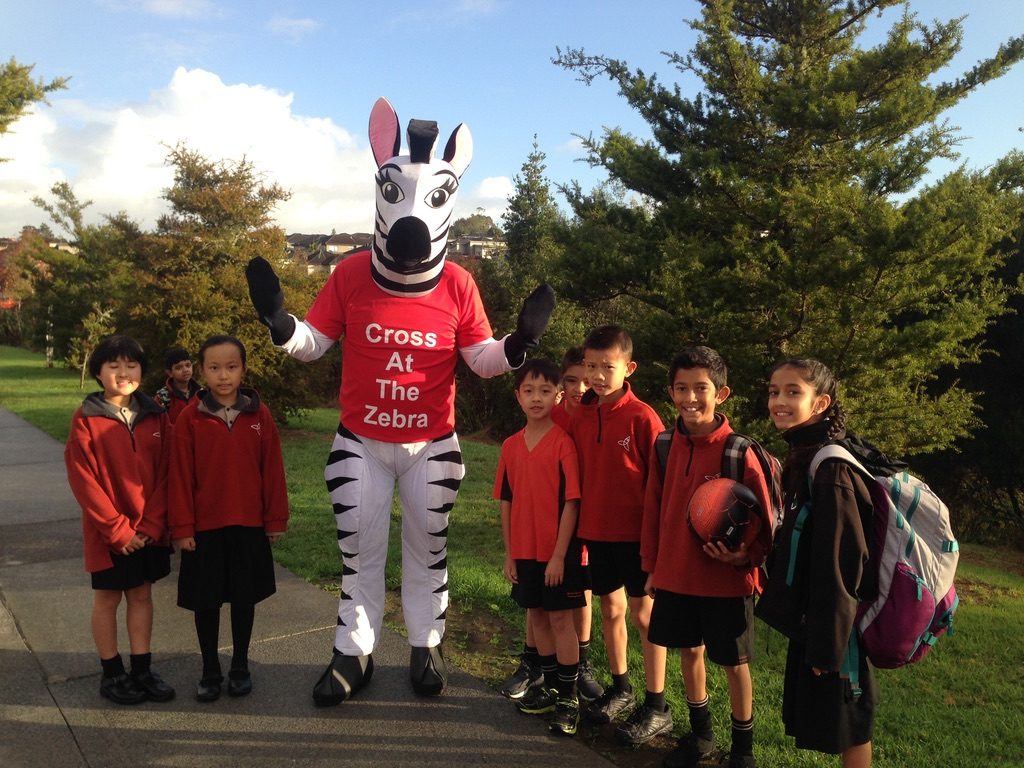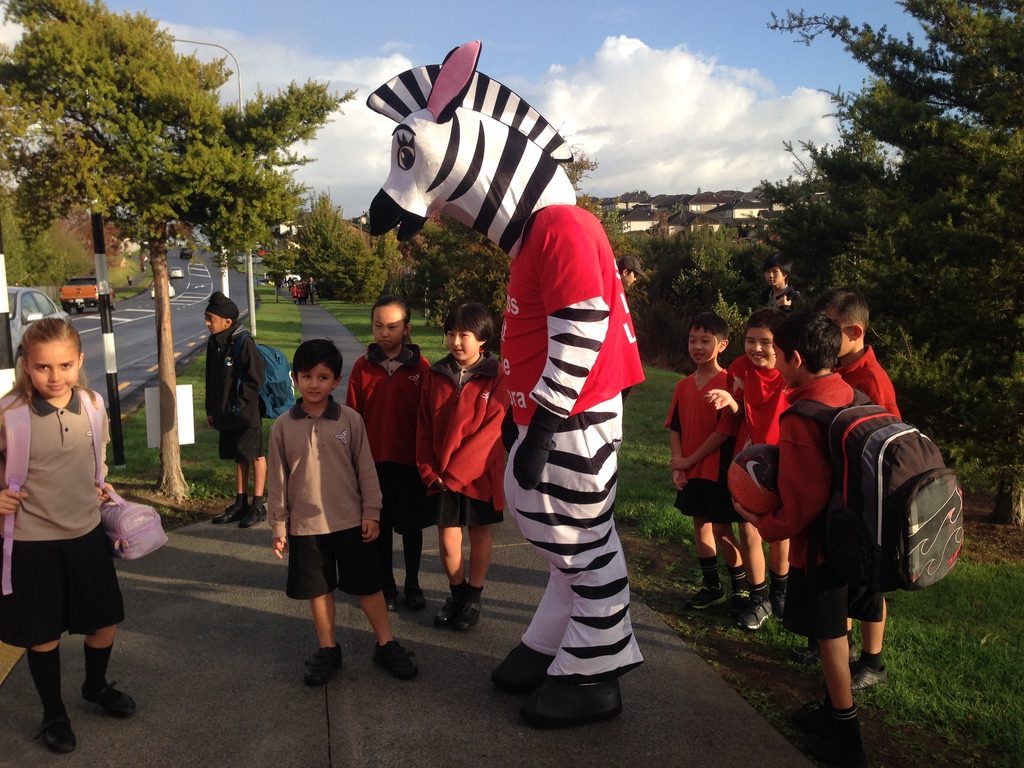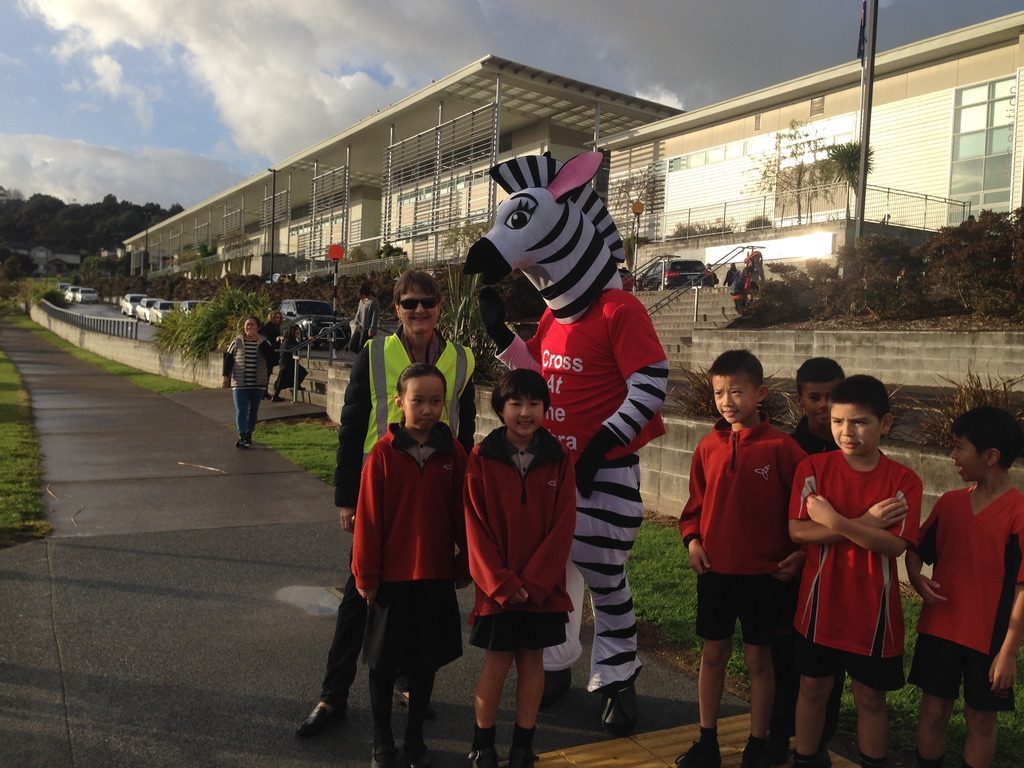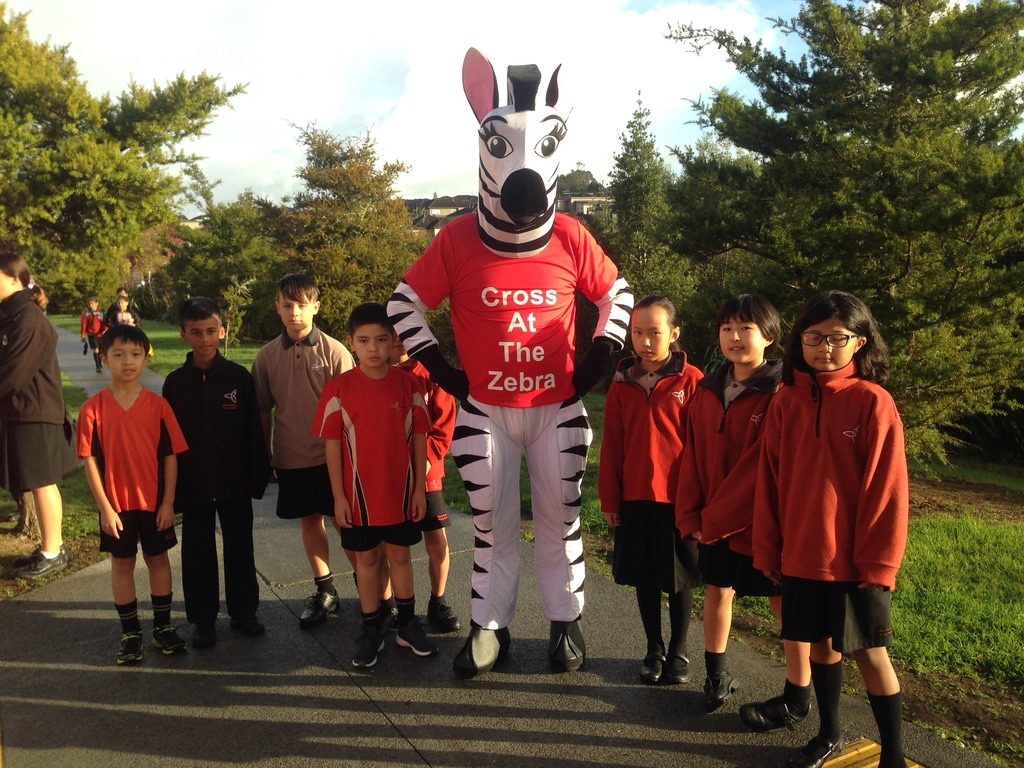 Our Walking School Bus students were rewarded with a Milo and doughnut treat on arrival on a cold and wet morning. They added bright accessories to their uniforms to acknowledge Be Bright Be Seen day.
Here we are reminding our community that we are back at school and that they need to be mindful about sharing the road with us.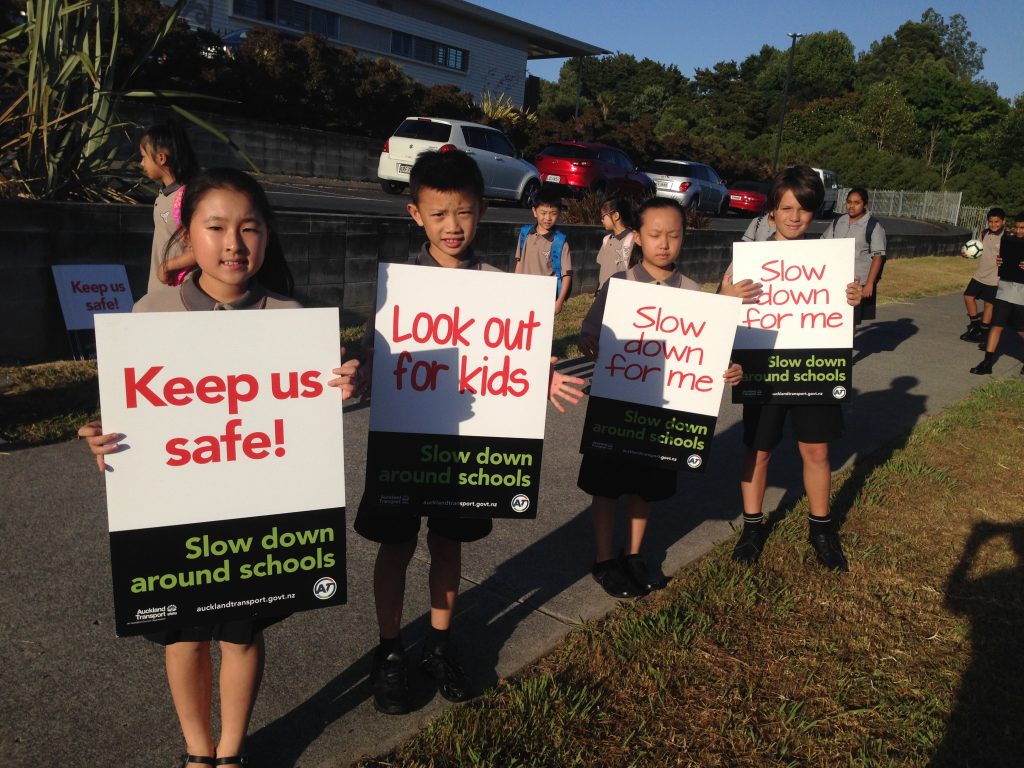 We kicked off Road Safety Week with our placards and…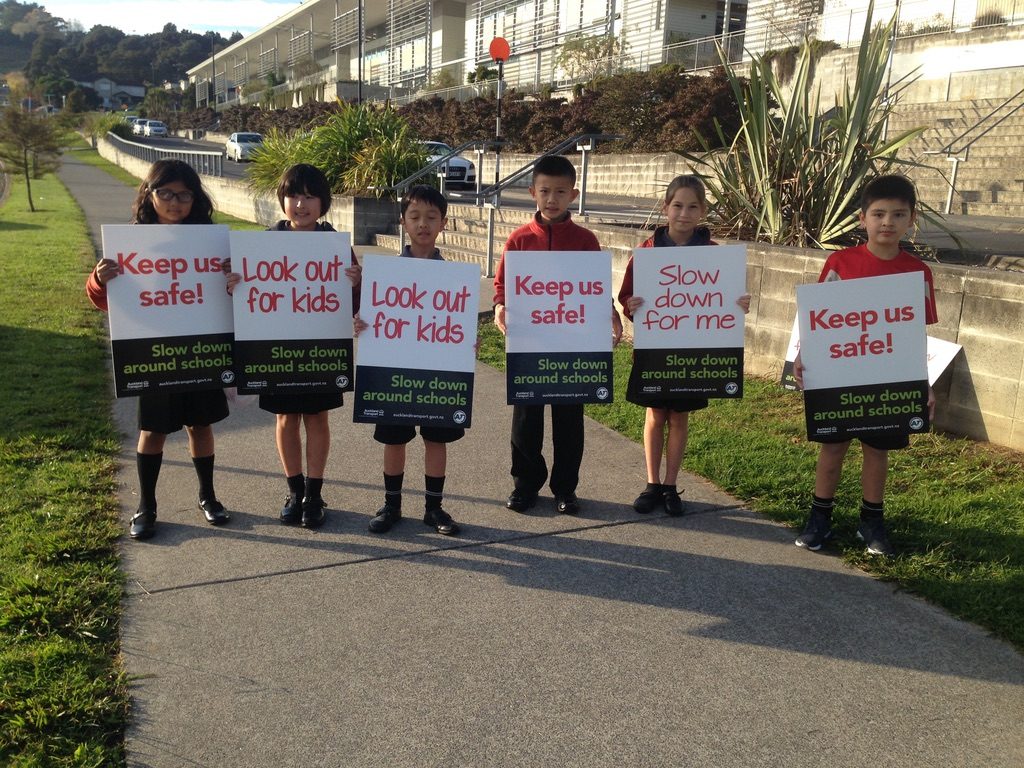 We rewarded students who disembarked from their cars on the pavement side.
Our Middle Learning Community enjoyed Scooter Training sessions with our Community Transport Coordinator. The session began with helmet safety checks. They learned how to slow down, brake and how to identify hazards. Most importantly they understood the importance of taking care while sharing the road with others.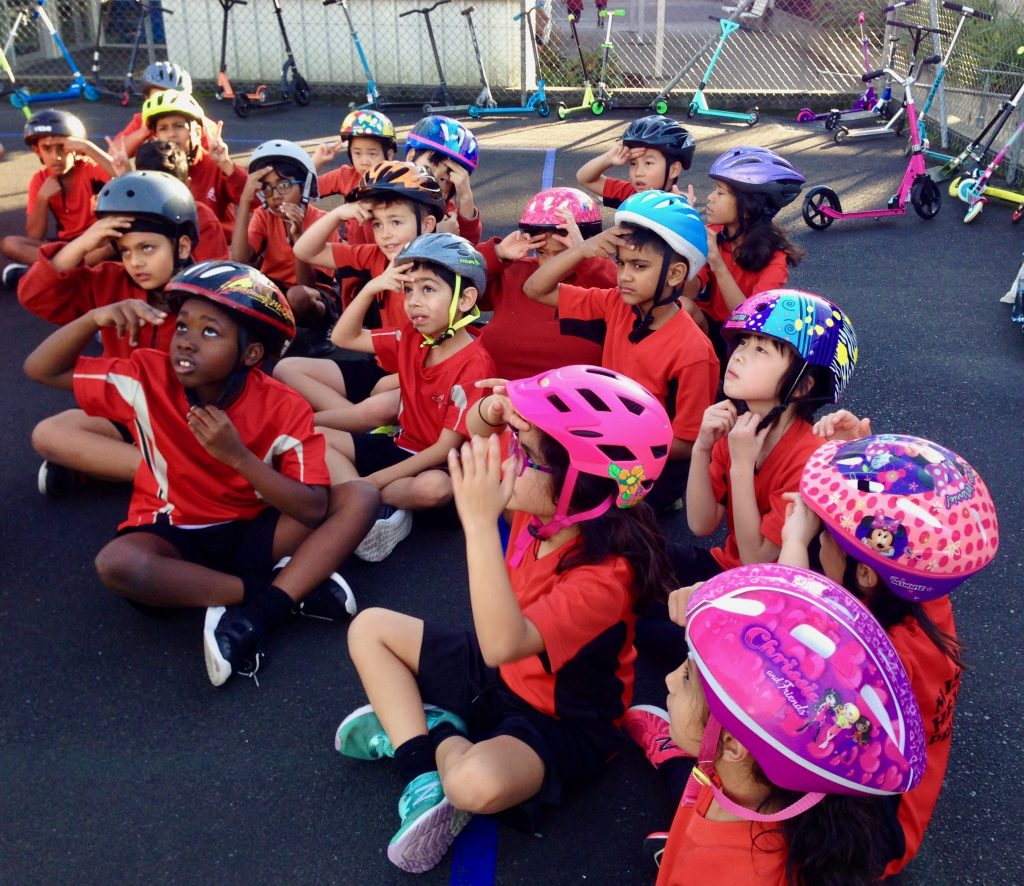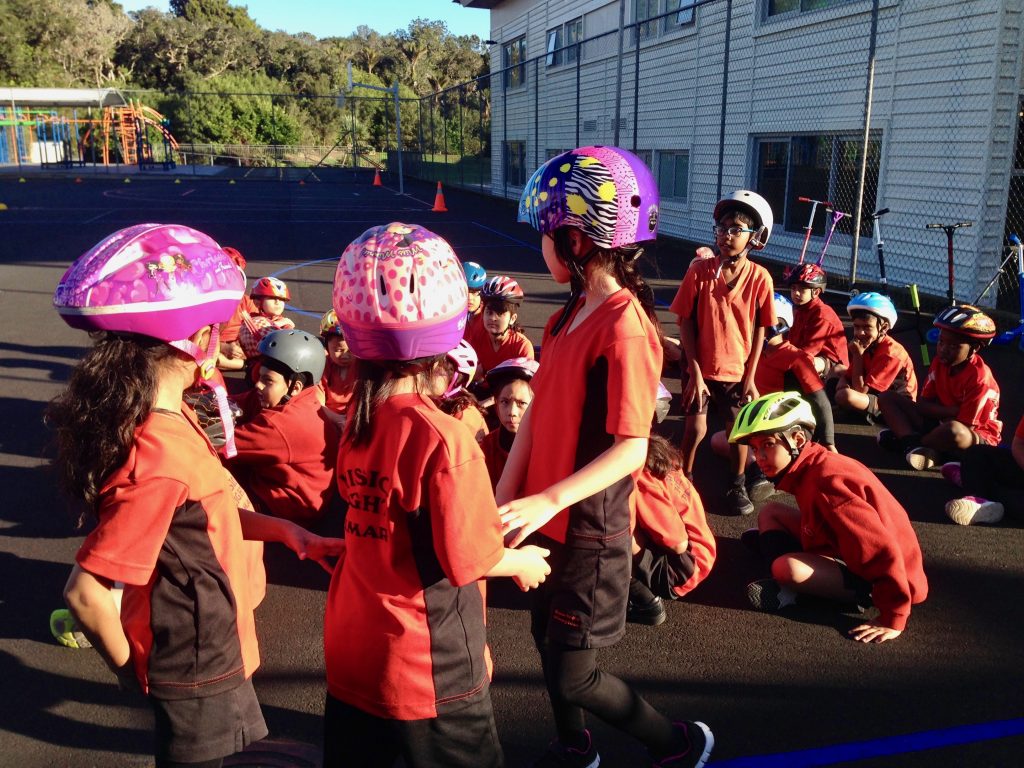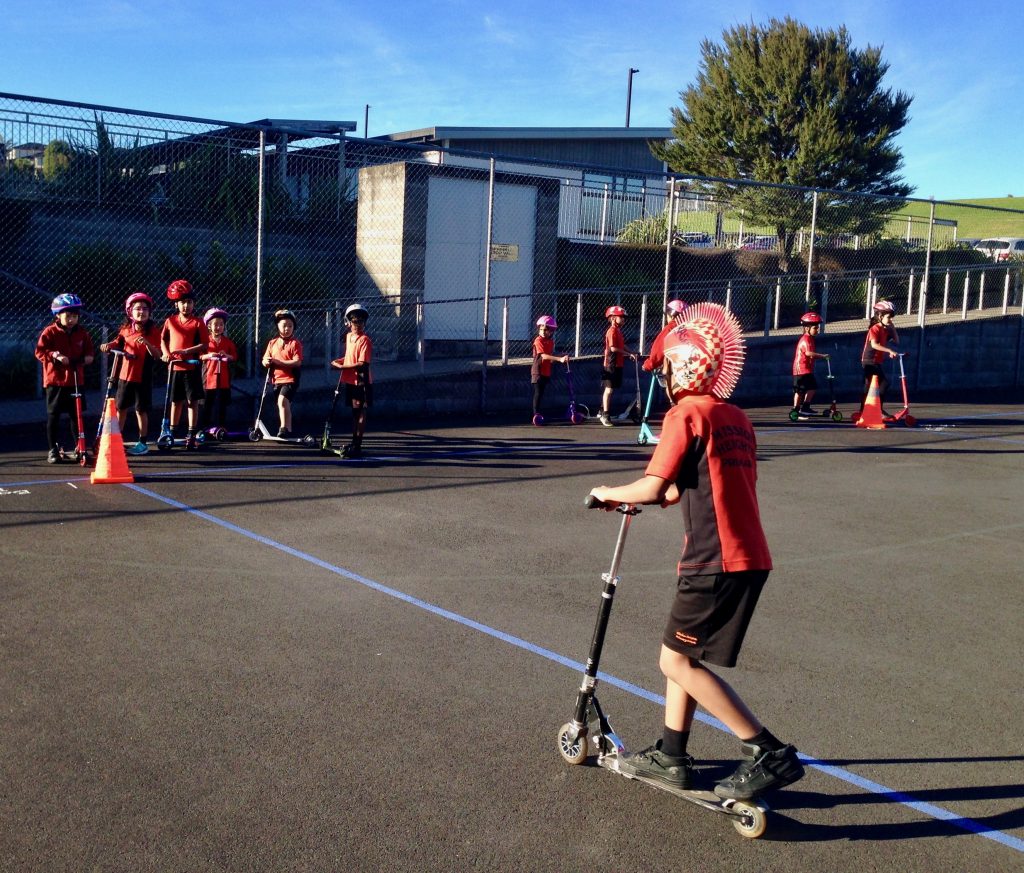 Auckland Transport provided us with really practical prizes to reward students who completed the February Bike Challenge.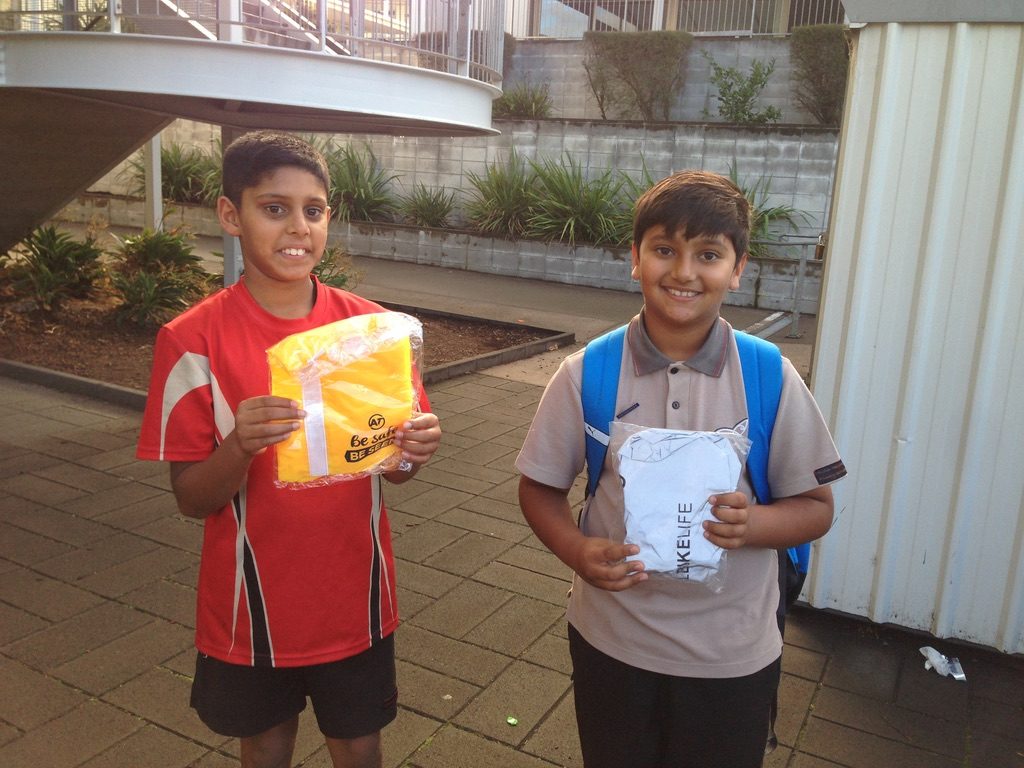 Waterproof bag covers and drink bottles! We had twenty- seven prize winners who had biked to school at least seven times in February.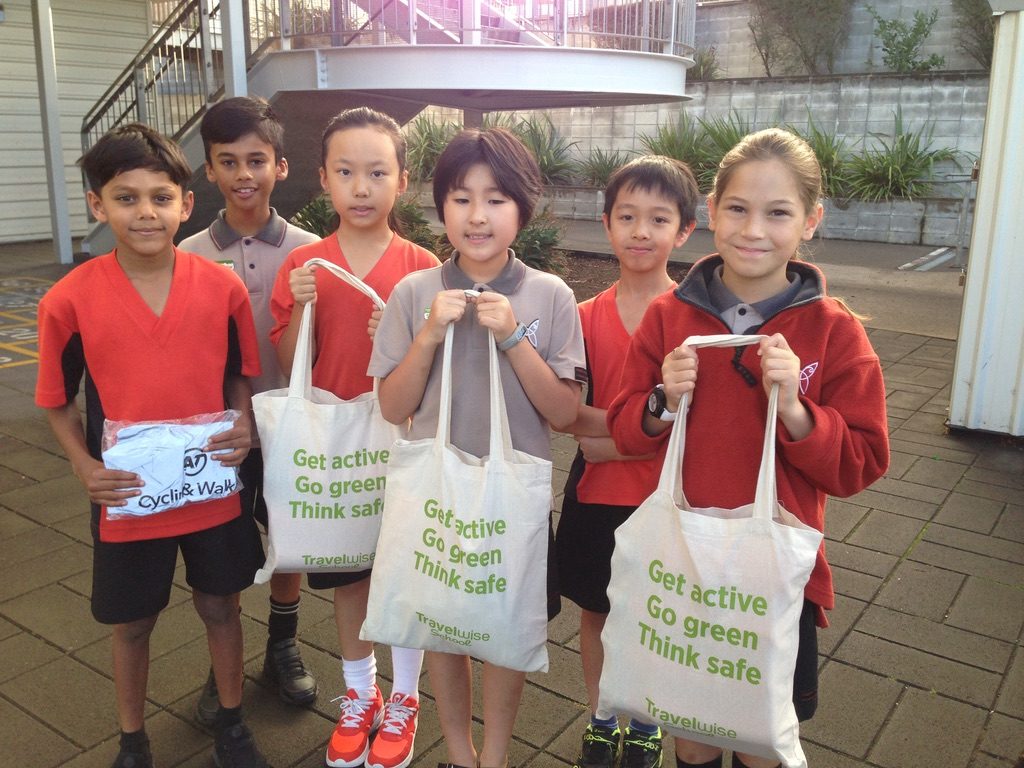 Here's the team all set to hand out the prizes.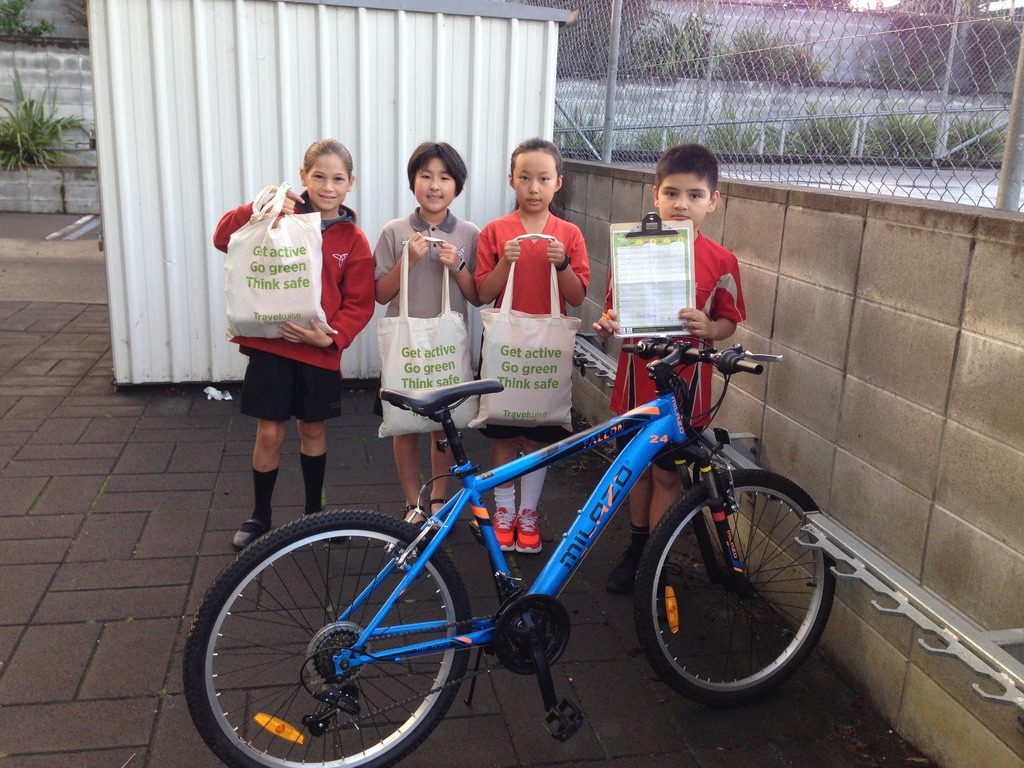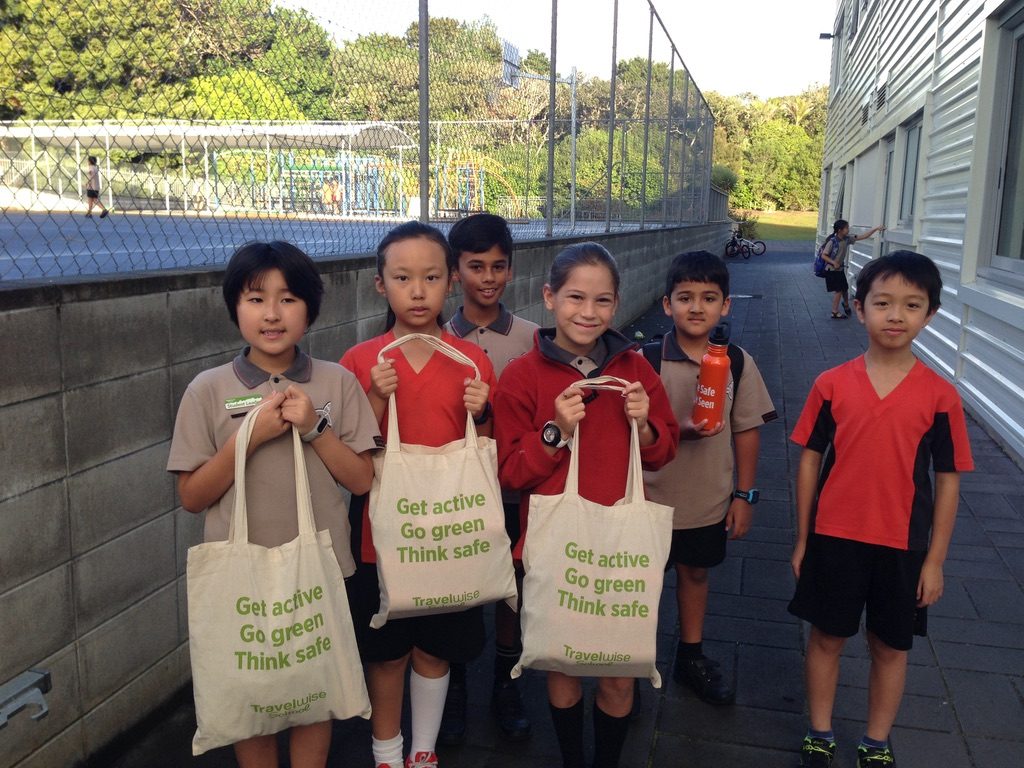 A team of eight students attended the annual celebration at The Cloud. The objective was to make us aware of the various transport experiences that we can enjoy in our City of Sails.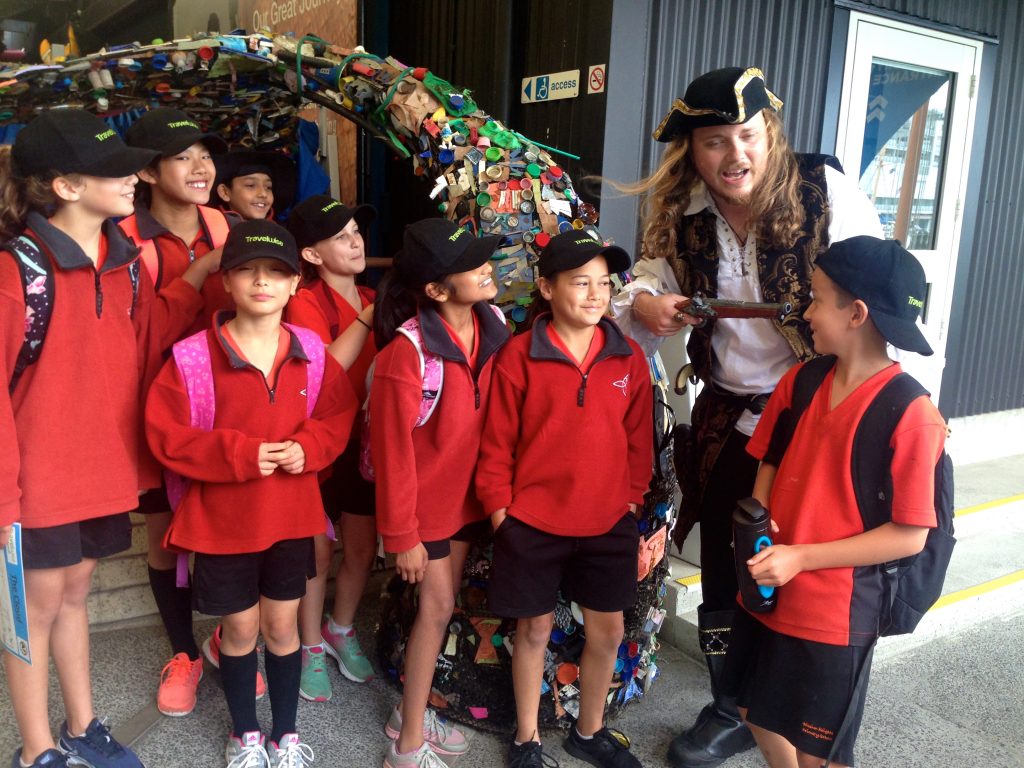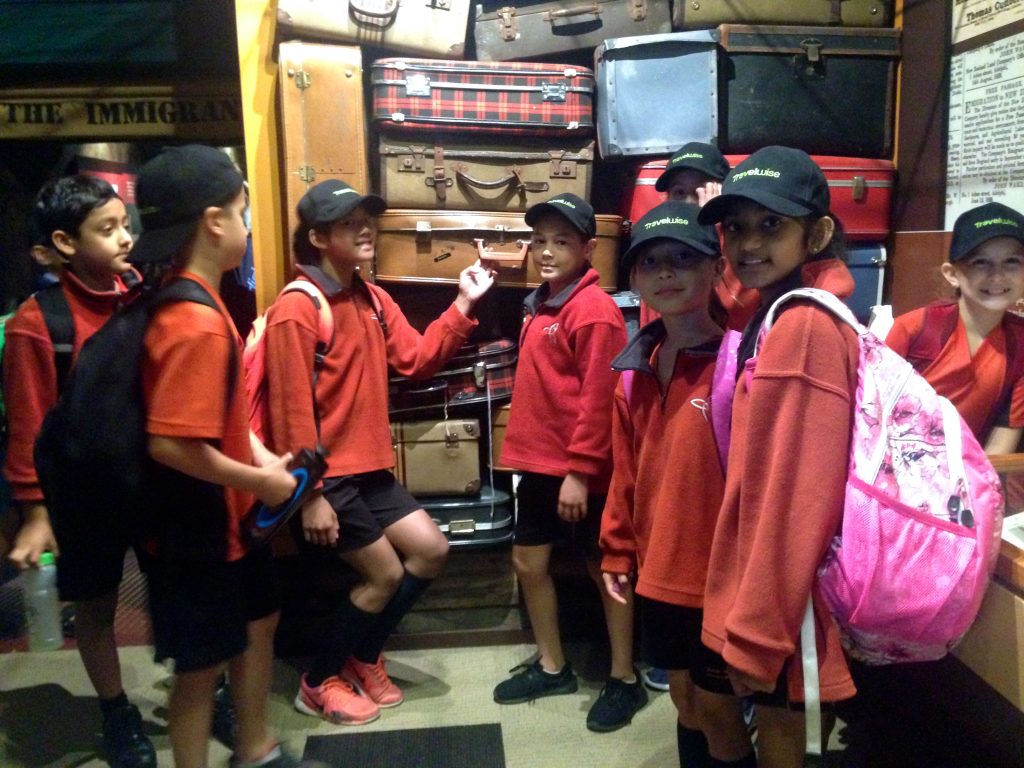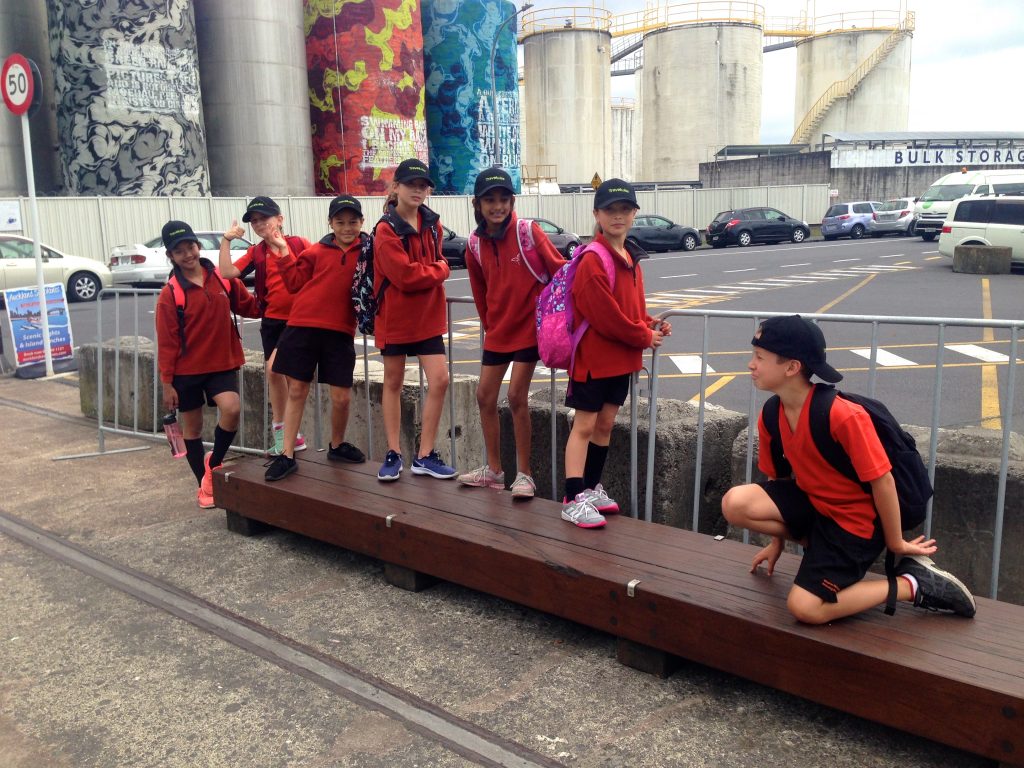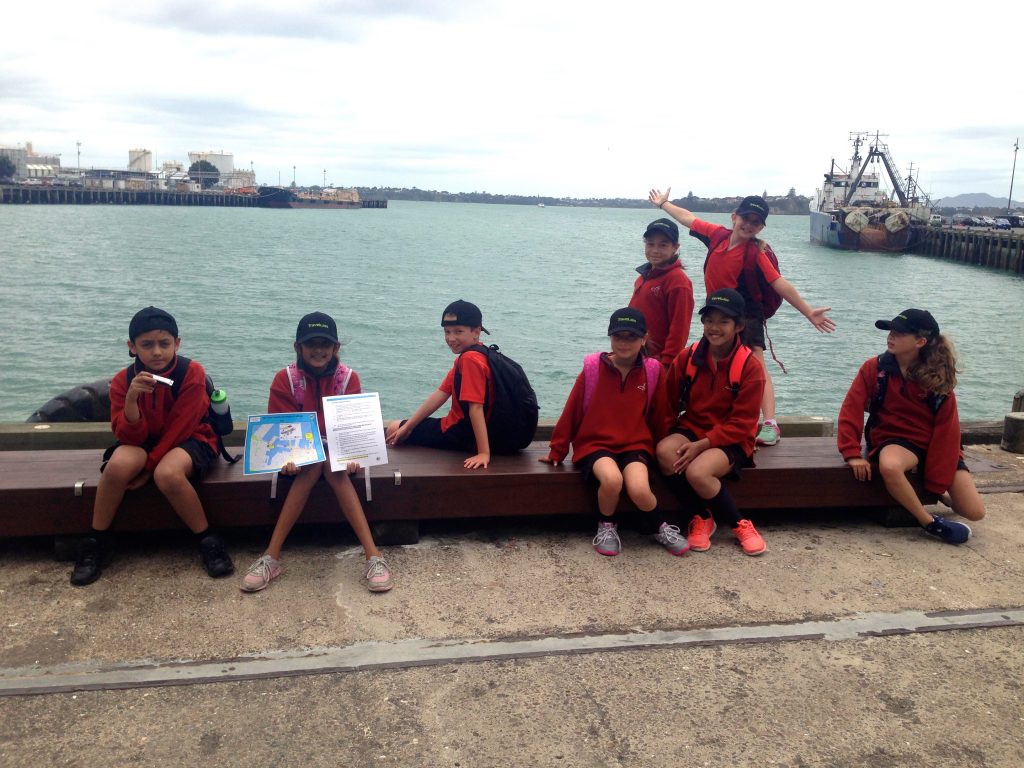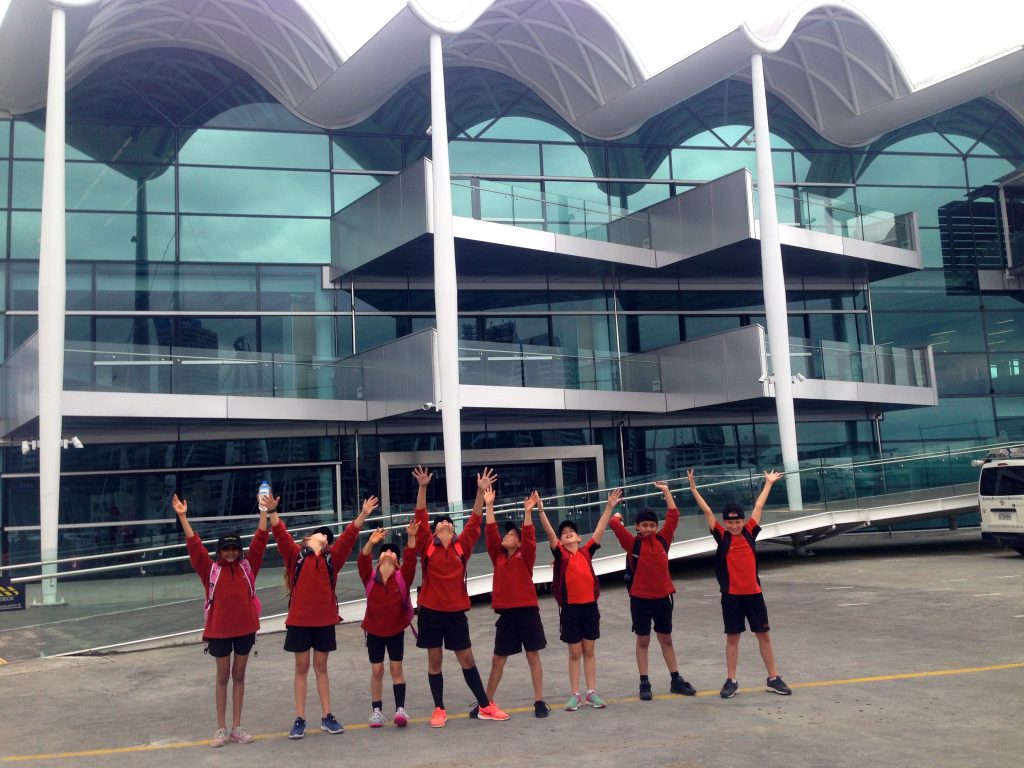 We learned a lot from our Speed Camera initiative. We recorded speeds as high as 64 kph. We reminded  drivers of the dangers of speeding around schools and thanked those who drove within safe speed limits.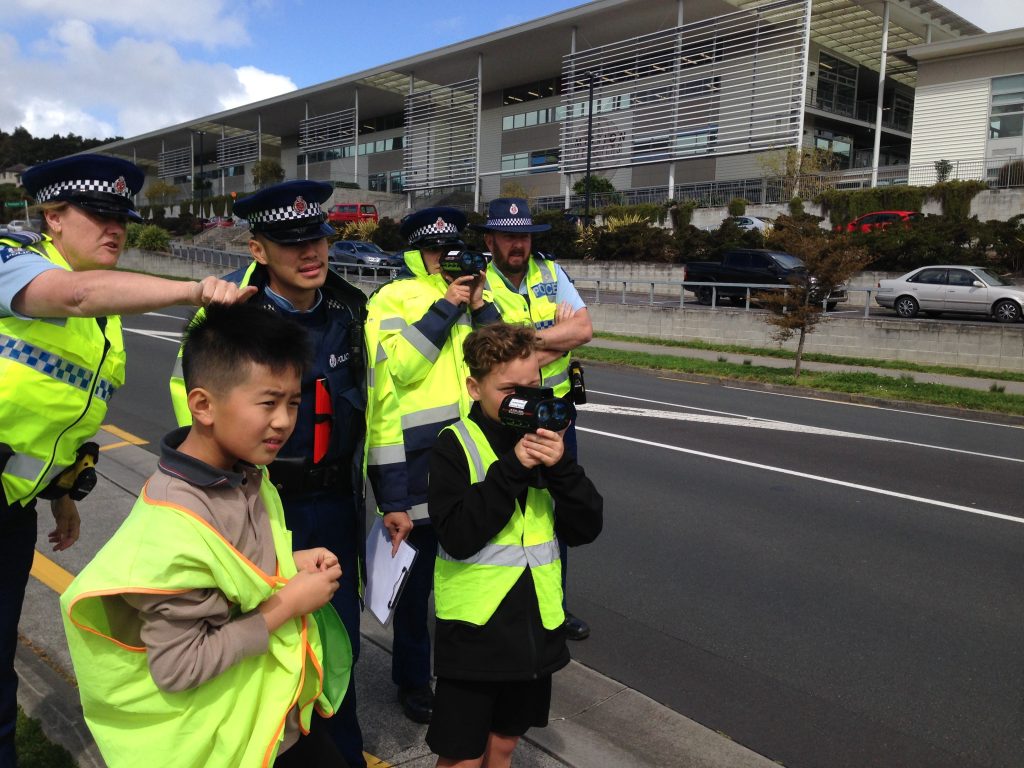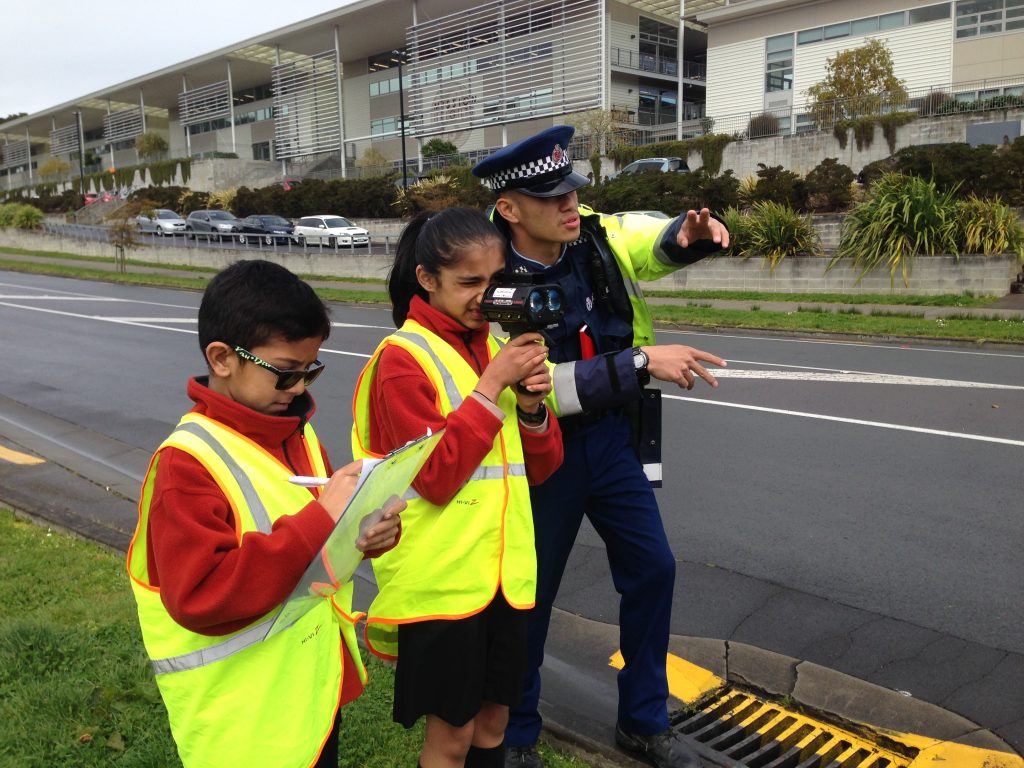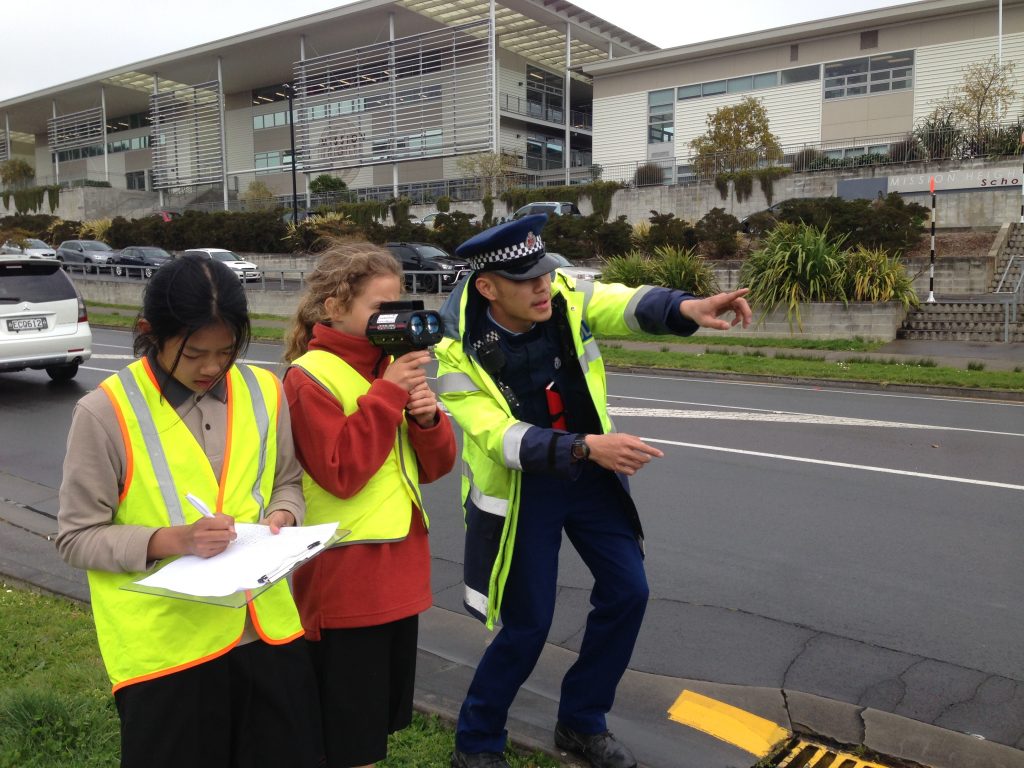 Helmet safety: putting the skills we learned as Bike Ambassadors to use.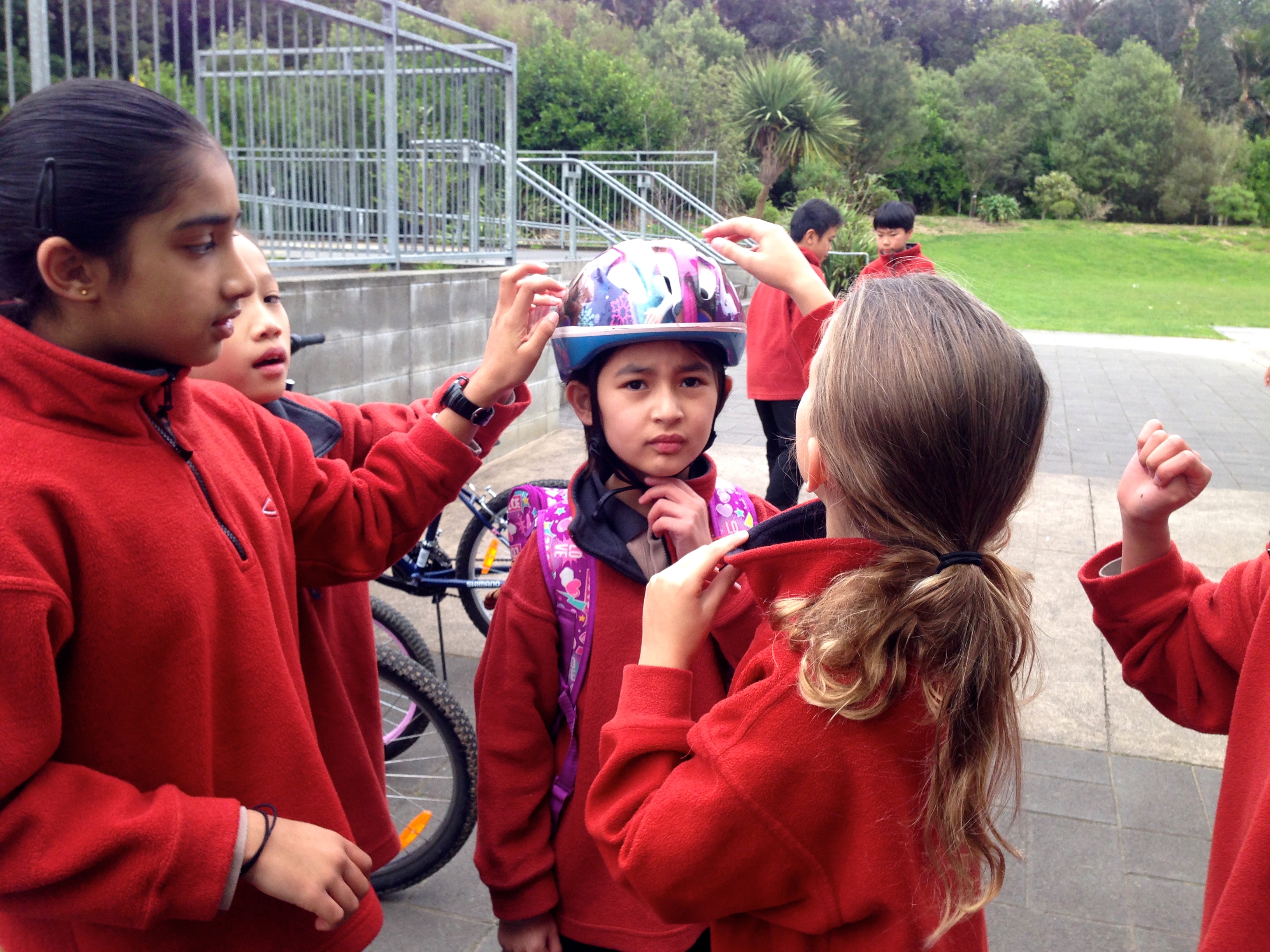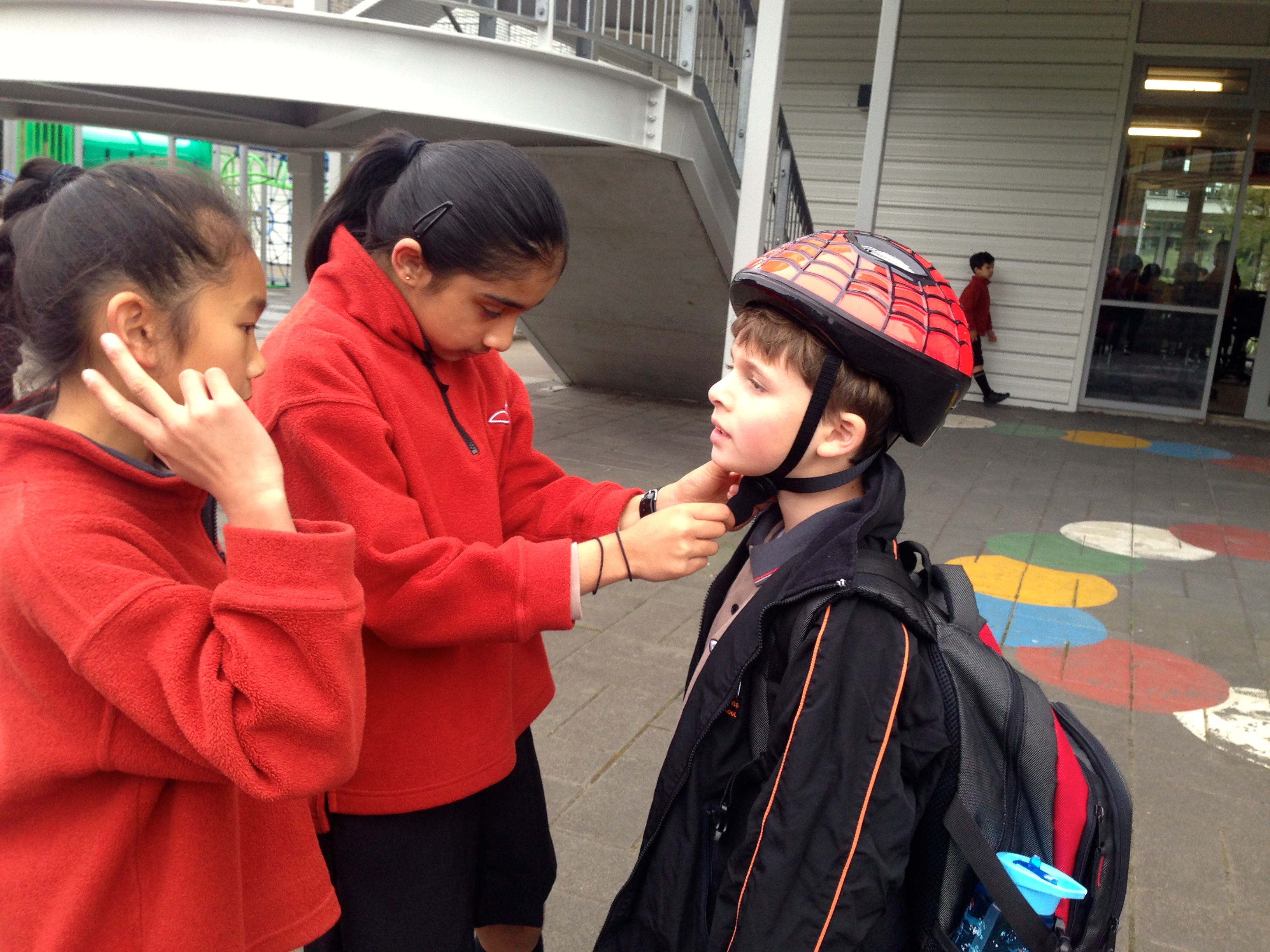 We so enjoyed having Zara the Zebra with us one afternoon. We highlighted the importance of crossing at the zebra crossing on Jeffs Road by walking across with our zebra cutouts.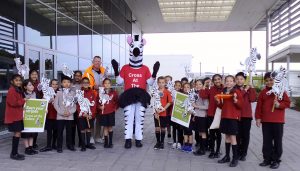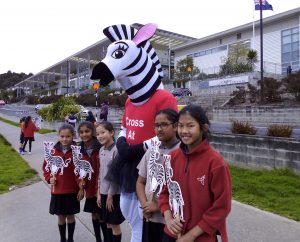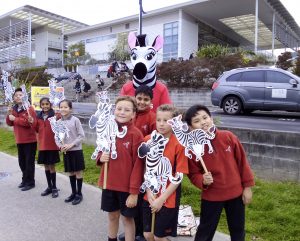 We rewarded our Walking School Bus with a winter treat of Milo and lamingtons. The theme was Be Bright Be Seen.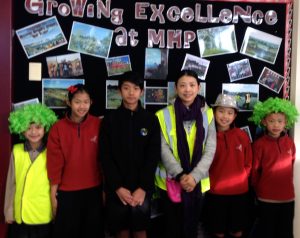 A team of students enjoyed the Bike Ambassadors initiative. They learned about helmet safety, bike maintenance and riding safely.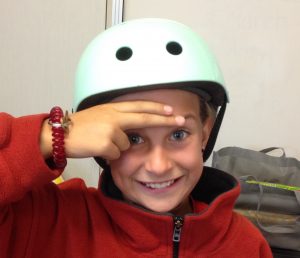 Two fingers above the brow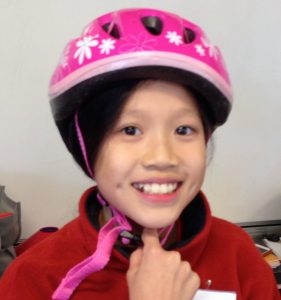 One finger between the chin and chin strap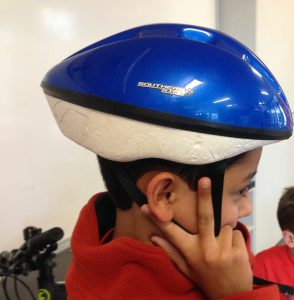 Make a vee about the ears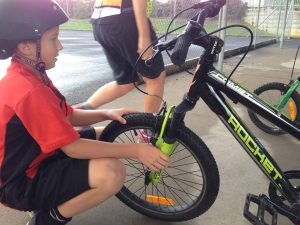 Check the fork is snapped onto the wheel and the tyres feel firm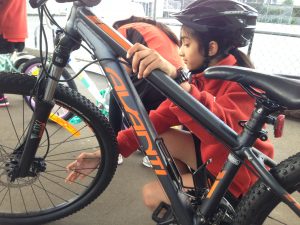 Check spokes are even and reflectors are in good shape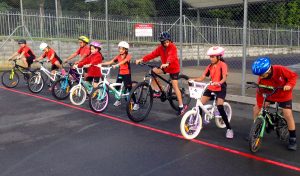 After the classroom theory session we went on the courts to learn the practical aspect of riding safely in confined spaces and changing direction. The purpose of the exercises was to remember that we share the road with pedestrians, other cyclists and vehicles. It was intense and we enjoyed learning a life skill.
During Road Safety Week we held up our placards, rewarded parents who parked responsibly around our school and ran a poster competition. Students were encouraged to design digital posters with a focus on the importance of wearing seat belts and not texting while driving. We had heaps of entries and the class that submitted the most entries was LZ 30! Congratulations!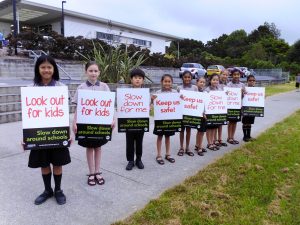 We kicked off Walking School Bus Week by holding up our placards wearing our Be Bright Be Seen accessories.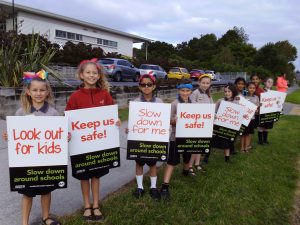 Almost every student was on board with our theme and it was a huge success. We awarded prizes to the brightest dressed in each Learning Zone. We also rewarded students who walked with the Walking School Bus and every child who rode their bikes or scooters on the day.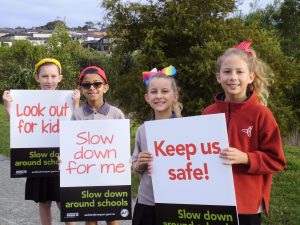 Our staff supported the initiative as well by wearing eye popping colours.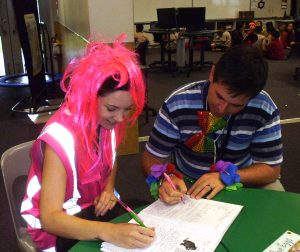 We awarded prizes to the brightest dressed child in each learning zone. Thank you Auckland Transport for the cool prizes.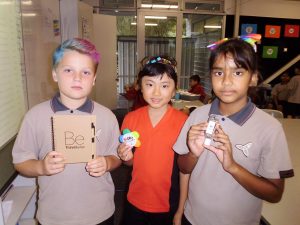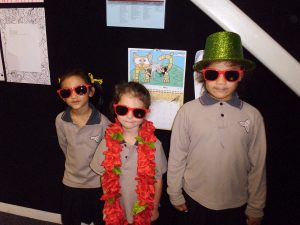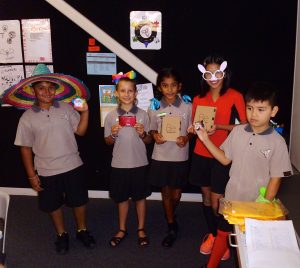 The Auckland Transport team worked tirelessly to punch out badges for our students at the school picnic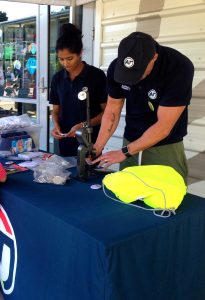 We played the fun pedestrian game and won seriously cool prizes.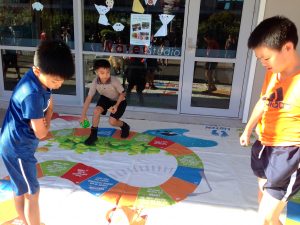 Here is one happy prize winner. He won a drink bottle which came in handy immediately.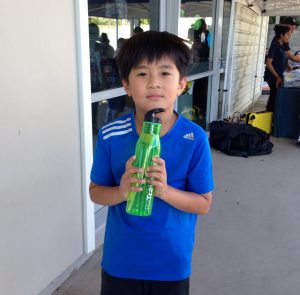 This year biking to school seems to be the preferred mode of transport. This is what our bike stands looked like despite all the crazy weather at the start of this term!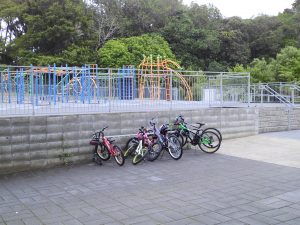 We have just one Walking School Bus this year and would love to have more routes operated by parents. If you are interested and think you have the time and commitment we would love to hear from you.
We celebrated our Walking School Bus by having a Milo and donut morning. Here are a couple of pictures from that day.
During Road Safety Week you would have seen our team around our ponds presenting lollies to parents who parked responsibly around our school.
The team returning after a hectic morning of handing out lollies and holding up signs to remind our community to Slow Down.
Our community is aware of the need for booster seats.
Our school van arrived just in time for Road Safety Week. We use it to transport teams to their various events. It made a significant reduction to our carbon footprint.
To maximise the visual impact of Walking School Bus Week our students wore Funky Footwear. Here are some of the creative ideas our students came up with for Funky Feet.
Our teachers got into the act as well!
She stuck as many pom poms as she could onto her shoes. Cute!
Safety at the School Gate is a partnership programme run with Auckland Transport. The aim is to improve safety around the school gate for students who are put at risk by drivers who park illegally. Please be aware that parking officers will be on patrol and you must park safely. They will not be issuing warnings and will be ticketing drivers who are illegally parked. Thank you parents for your commitment to keeping our students safe.
We entered a writing competition and won a visit from Jerome Kaino. He walked with the Walking School Bus during Walking School Bus Week. It was Hilarious Hats day as well. We must have made a strange sight that day, Jerome in the midst of a sea of hats!
Jerome with some of our parent walkers.
Jerome walking with our students
Auckland Transport arranged scooter training for us. They demonstrated the correct use of helmets, made us aware of potential hazards en route to school and instilled sound safety practices.
We have scooter racks at school and students are welcome to scooter to school and use their own locks to secure their scooters. Students must wear helmets – these are to be worn with the pointed end at the back, two fingers above the brow, one finger between chin and chin strap and straps around the ears in a V. They need to be alert for sneaky driveways and wheel their scooters across roads and crossings.
Please use the school crossings when crossing Jeffs Road and Valderama Drive. Parents please remember to drop your speed to below 40 km during drop off and pick up times. Please note the road patrol on Jeffs Road is on patrol from 8:00am till 8:30am. Then again from 3:00pm till 3:15pm.
Mission Heights Walking School Bus Map January 2018. Please click on the link below for the map and contact details of our wonderful parent helper. We have one Walking School bus that starts at Beros Pl.
Mission Heights WSB Map Jan 2018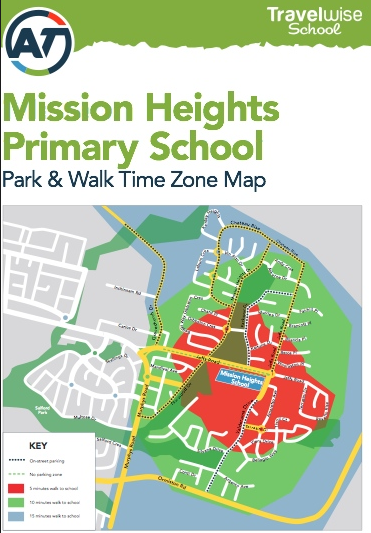 This map provides a bird's eye view of parking spaces around our school at drop off and pick up times. The spaces are marked by the black dots.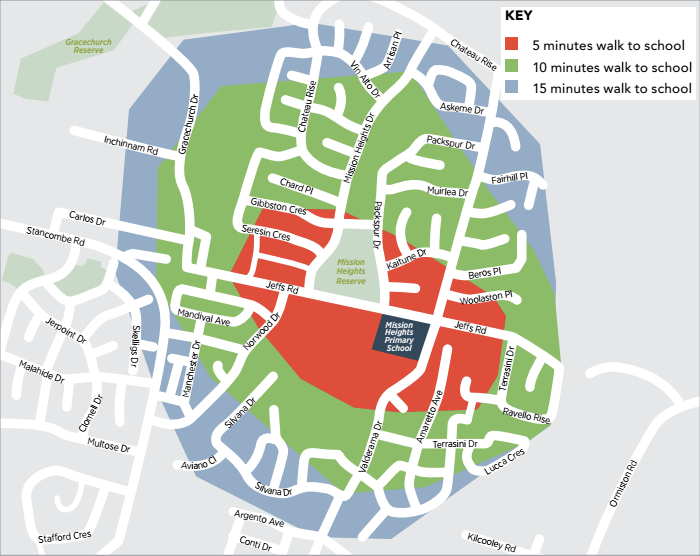 The map below gives you an idea of how long it takes to walk to school from various points in our community. The red zone takes 5 minutes, the green takes 10 minutes and the blue zone takes 15 minutes. Our students actually walked these distances and timed themselves to provide you with this map.