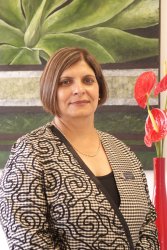 As the foundation Principal of Mission Heights Primary School, it is an absolute privilege to warmly welcome you to a new school in Auckland New Zealand with a "state of the art"modern teaching and learning environment where every child matters.
At Mission Heights Primary School, we strongly believe that high expectations set from the early years of schooling ensure that students are active in their own learning throughout life. With the use of flexible learning spaces, learning studios and effective learning technologies, we expect our students to understand from an early age, what works well for them as they develop a sense of their own identity in how they learn best.
Together with a team of outstanding, dedicated and talented staff, we are strongly committed to deliver an evolving and innovative 21st century curriculum shaped by personalised learning. At Mission Heights Primary the use of engaging and innovative approaches within authentic learning contexts in a digitally intensive environment remains integral to all learning programmes.
As a centre for growing excellence, students at Mission Heights Primary experience unique and vibrant learning opportunities to become confident achievers and life long learners in a positive, safe and supportive learning environment. Besides our positive school culture, the school's curriculum will enable students to foster a love of life-long learning, develop the capacity to think and learn, and cultivate responsible stewardship for our natural environment and heritage.
Mission Heights Primary School is firmly committed to developing strong partnerships with its growing school community. We welcome and encourage all families to be actively involved with our school as we continue our commitment to nurture responsible global citizens, who are empowered and inspired by our motto of 'Growing Excellence'.
I am excited and optimistic about the future of our school and students as together with our school community we continue to make Mission Heights Primary a great learning institution that we can all be proud of being associated with in the years ahead.
Veena Vohra (Mrs)
Principal
MEd (First Hons), AdvDipTchg, DipEdM.